Wood screws (English screw bolts or screws) are small items but are an extremely important component in the work life like construction.

In this article, we'll give you some information about the uses, tightness, characteristics of some types of screws so you can use them more effectively.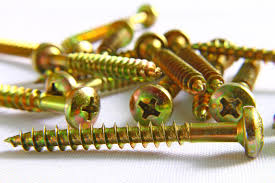 The difference between wood screws, metal screws and plaster screws
Wood screws: A body of wooden fasteners usually does not have lace. This non-threaded part helps the upper part of the wood to be pulled on par with the lower part without catching up with the screw thread.

Metal screws: Metal screws usually threaded along the entire length of the screw. Many people believe that this screw can be used in wood. However, there are still many people who think it should not be.

Gypsum screw: Large step lace is often used for plaster and wood, while small step lace usually goes with metal. The coupling from head to body has more curves than wood screws to limit the penetration of plaster.

The most popular thread types of screws

The most popular are large step lace and small step lace. So what is the difference between the two?

- Large step thread has less thread per inch than small step thread.

- Ren large steps often less suspended or stuck because screws are placed in a small angle. At the same time, they are also installed faster.

- Small threaded screw is usually lighter. Ren's big step is weaker on the length of the match than the small step lace.

- Small step lace is often used in metals or other thin-textured materials.

- Large step lace will be more usable with slight damage or abrasion than small steps because they have many errors.

- Lace small steps have a slight adjustment because of less rotation than large step lace.

With the above information, you certainly have obtained useful information about the types of screws available today.